Future You is dedicated to inspiring more young people to choose STEM careers. The National Education Summit at the Melbourne Convention and Entertainment Center (June 16-17) was the perfect place to meet educators.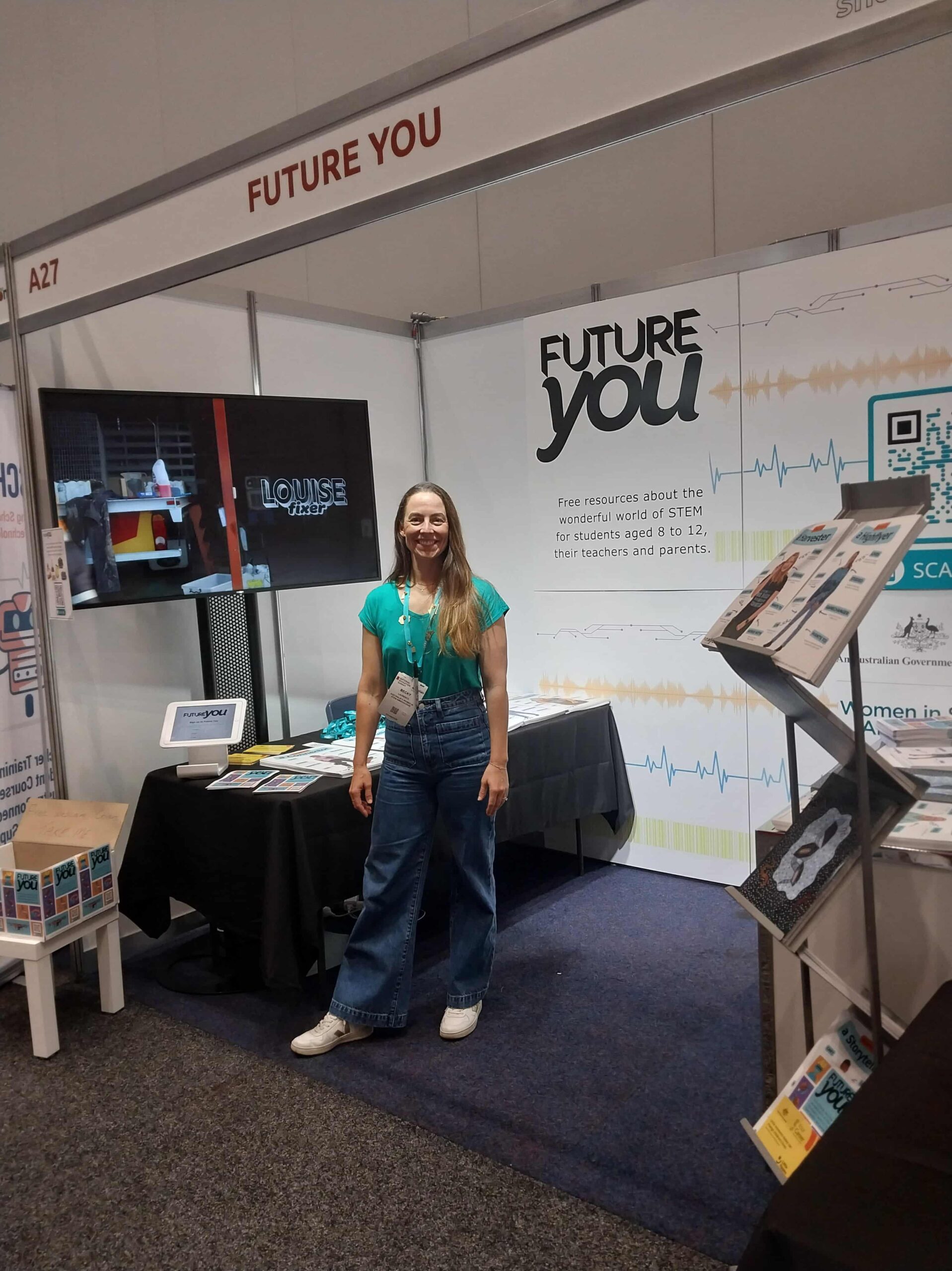 Our Future You team was busy at the summit sharing our latest initiatives and resources aimed at shaping a brighter future for our young learners in STEM.
What's new in the world of Future You
We introduced our new Pathfinders posters designed to inspire and guide students in finding their unique, study paths in life. These posters  look awesome on classroom walls and constantly remind everyone that every child can choose a STEM career. 
Handy giveaways for our visitors
Along with posters, we gave away nifty webcam covers for added privacy in the digital age. These covers easily attach to laptops and tablets, ensuring the camera stays off when it's not needed. It's a small yet significant step towards keeping our kids (and ourselves) safe online. 
Our super stylish lanyards were a hit! Available in vibrant colours, they are a stylish accessory yet practical too. Perfect for teachers to hold identification cards or hang keys, making their daily tasks a little easier. We're about finding little ways to make teaching and learning more efficient!  
Australian Curriculum aligned resources to support teachers
The real reason we were there? To talk about the valuable resources we've developed to support the Pathfinder films and Imagining the Future stories. We're thrilled to announce that these resources are fully aligned with the Australian Curriculum V9.0, ensuring that they integrate seamlessly into your teaching plans. 
The Pathfinder films are designed to ignite curiosity and inspire students to explore different career paths. Each film focuses on a specific profession and provides a glimpse into the daily lives of professionals in that field. It's an excellent way for kids to discover a wide range of possibilities and get excited about their future possibilities. 
To complement these films, we've developed a range of bite-sized resources that teachers can use in the classroom. These resources include:  
comprehension questions

 

classroom activities, and 

 

discussion prompts designed to engage students in meaningful conversations about their passions, strengths, and future aspirations. 

 
By nurturing these discussions, young learners can discover their true potential and set themselves on a path towards success, whilst meeting the General Capabilities included in the National Curriculum helping to develop well- rounded students.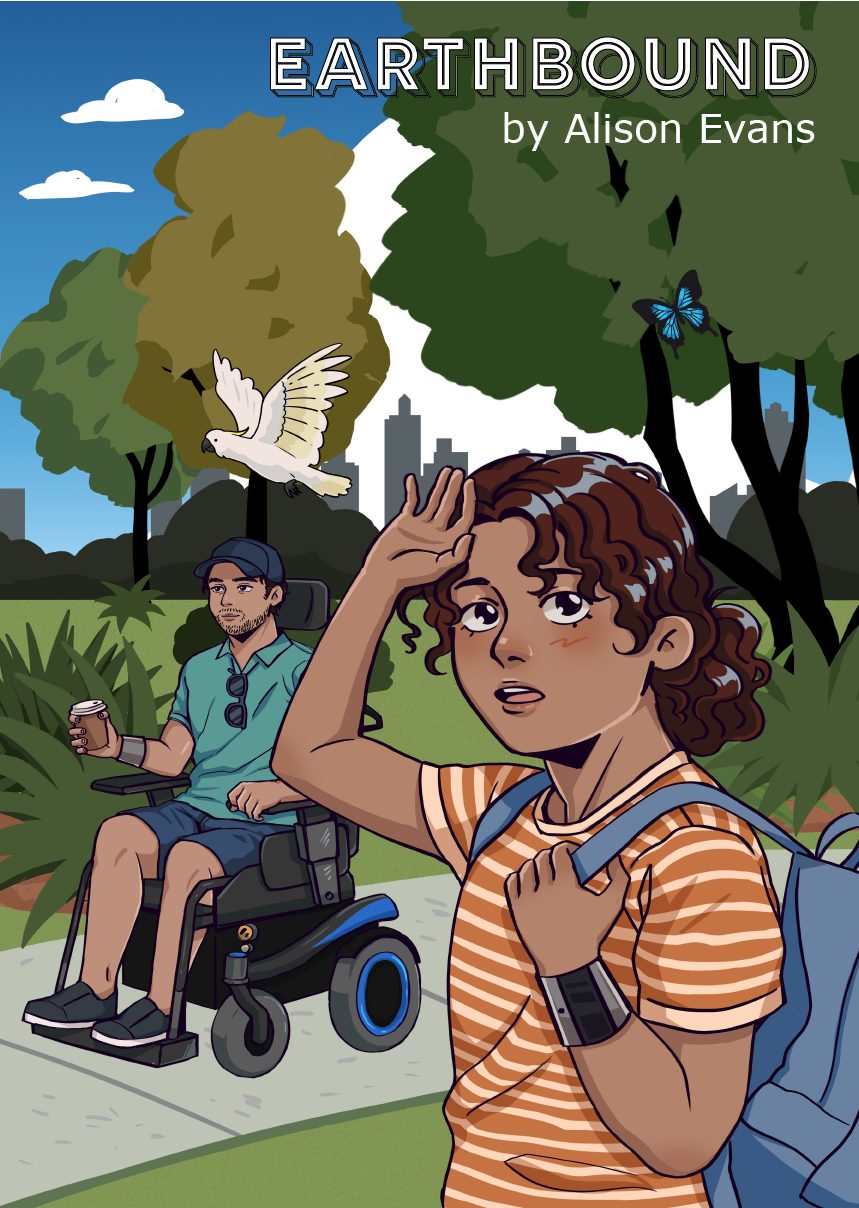 About Imagining the Future stories
The Imagining the Future stories are set in an interlinked future story world of The Callistan Cycle, named after one of Jupiter's moons around which the stories unfold. 
In the five short stories that make up 'The Callistan Cycle' readers join diverse young protagonists as they grapple with the technological, ecological and societal challenges presented by space, travel and life on the distant moon..
All the stories incorporate various STEM elements adding a unique and exciting angle to the stories. They come in three formats to suit all styles of learning.
Activity matrix aligned with Bloom's Taxonomy and Gardner's Multiple Intelligences
Accompanying these rich and exciting stories is an activity matrix developed for use in the classroom and at  home. The matrix focuses on English with a range of literacy and literature skill activities, and is a versatile educational tool offering a myriad of possibilities for teachers seeking to enrich their teaching materials. The matrix supports the development of critical thinking and creativity skills while catering to learner diversity and individual differences.
The matrix is directly linked to two prominent educational frameworks: Bloom's Taxonomy and Gardner's Multiple Intelligences. If you're unfamiliar with these frameworks, we encourage you familiarise yourself with them by clicking the links provided. Knowing these theories will deepen your understanding of how the matrix aligns with educational objectives and caters to students' varied learning styles and intelligences.
Why use the matrix?
The matrix offers a wide range of activities suitable for various year levels within the Australian Curriculum V9.0. It can be integrated seamlessly into your lesson plans to design engaging activities that encourage student participation and meet curriculum objectives across multiple subjects.
A key strength of the matrix is its ability to accommodate diverse learning needs. Students can work at their own pace, exploring activities that align with their individual interests and strengths. Alternatively, teachers can assign specific tasks, ensuring all students engage with the material. This flexibility promotes a student-centered approach and encourages self-directed learning.
How to use the matrix for the best outcomes
To foster a sense of pride and ensure students produce high-quality work, encourage them to take their time and to avoid rushing through the activities. The matrix is best approached gradually over an extended period, allowing students to delve deep into the content.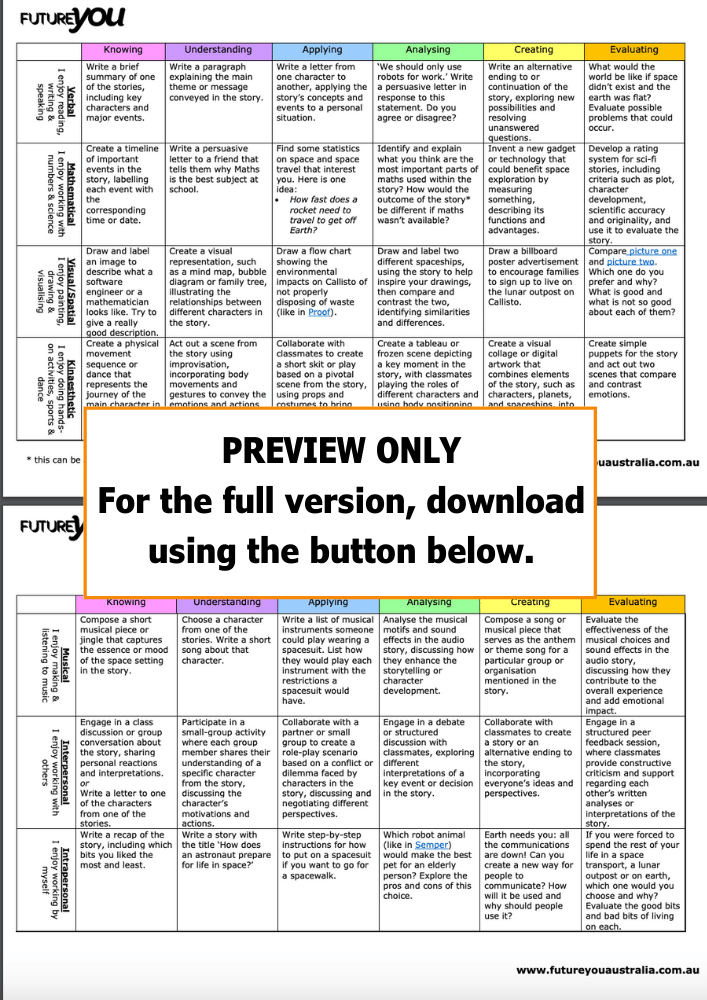 Implementing a point system can help the process. Instead of awarding more points to "higher-order" activities, assign equal value to all tasks, irrespective of their position within Bloom's Taxonomy. By differentiating marks based on effort and learning outcomes, educators can acknowledge the achievements of all students, promoting inclusivity and a sense of worth in the classroom.
Matrix fosters critical thinking and creativity skills
The matrix is a valuable resource for educators seeking to enhance student engagement and their learning journey. By integrating this tool into lesson planning, teachers can tap into the diversity of student abilities and learning styles, fostering critical thinking and creativity. The emphasis on recognising individual achievements and discouraging rushed completion promotes an inclusive and supportive classroom environment.
What's coming up for Future You
Further matrices focusing on other learning areas are being developed later in the year. . 
Whether you're a teacher looking for engaging materials to inspire your students or a parent seeking to support your child's journey to a STEM career, we've got you covered.
The National Education Summit is just the beginning. Our goal is to continue to smash stereotypes about STEM to create a brighter future for our young learners.
Together, let's make a difference!